GenComm: GENerating energy secure COMMunities
Hydrogen has the potential to become one of the main energy carriers of the future as it can be easily produced using renewable energy, stored using commercially available technologies and used throughout the entire energy system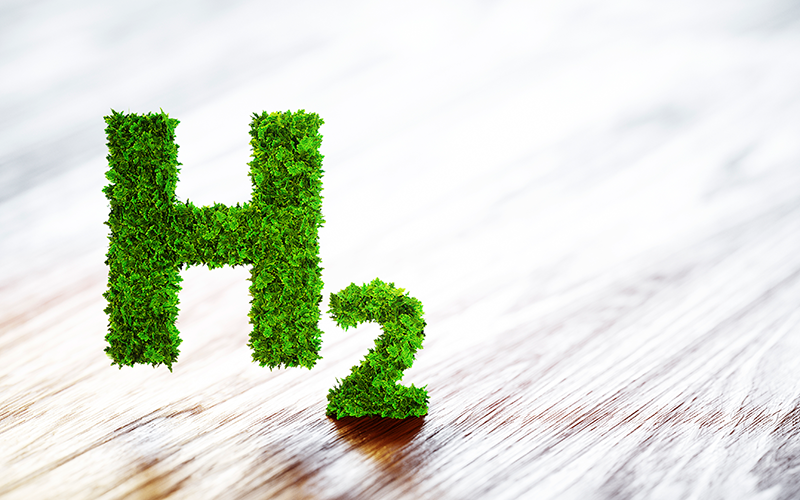 GENCOMM is an exciting project that will address the energy sustainability challenges of remote communities through the implementation of smart hydrogen-based energy solutions.
Led by Belfast Metropolitan College with 10 European partners, the €9.39m Interreg North-West Europe-funded project seeks to make better use of alternative energy sources by demonstrating the use of hydrogen (H2) as a safe, clean and reliable energy storage technology for communities. This will be researched via three hydrogen pilot plants in Northern Ireland, Scotland and Germany, each making use of hydrogen in a different way.
In Northern Ireland, wind power is used to split water and capture the hydrogen gas for use in transport, heating and in fuel cells to generate electricity. In Germany, solar energy is used to split water into hydrogen and oxygen – the hydrogen is then bottled for use as a transport fuel. In Scotland, the site is a salmon fish farm where wind energy is used to split water – the hydrogen provides an energy upgrade to improve methane coming from the biogas system that powers the farm, while the oxygen is used to improve the water quality where the fish are based.
From these pilot plants, technical and financial simulation models will then be developed, with the overall aim of producing the project's key output – a decision support tool (DST). This online tool will provide a roadmap for communities and energy stakeholders to transition to renewable, hydrogen-based energy, enabling them to identify if their local electrical network grid circumstances and availability of renewable resources make hydrogen a good fit.
Figure 1. Smart hydrogen GenComm pilot plants in northwest Europe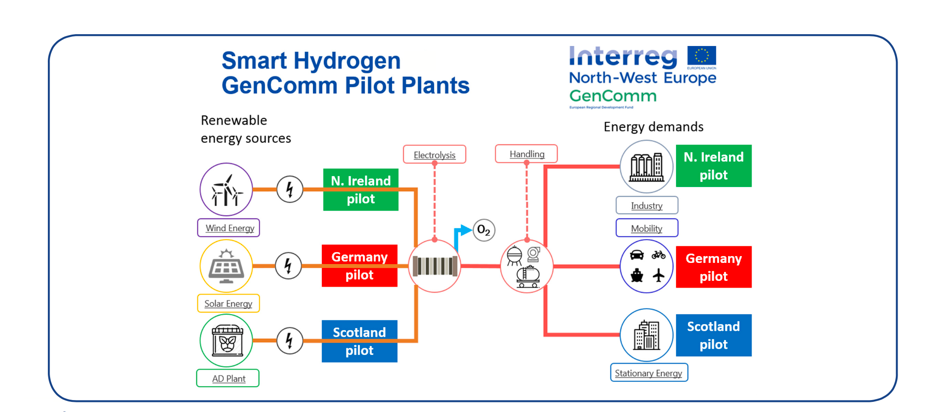 Paul McCormack, GenComm's Project Manager at Belfast Metropolitan College, the lead partner in the project, said, 'Renewable and hydrogen technologies are key to the development of our future energy systems and without projects like GenComm, we would not have the capacity to fully explore the potential of smart hydrogen and its commercial value.'
'Our research and development continues and we look forward to the findings from each of the three plants. We invite new members to join our Community Hydrogen Forum (CH2F), as it will provide energy stakeholders across Europe with the opportunity to trial our Decision Support Tool, a tool which will help communities to transition to renewable hydrogen.'
For more information on the GenComm project please contact:
Anne Artt, Operations and Communications Manager,
Tel: +44 (0)28 9026 5276
Email: aartt@belfastmet.ac.uk 
Web: www.nweurope.eu/gencomm