Turning waste into a resource
The EIC's Richard Vale asks, where does energy from waste stand in the circular economy?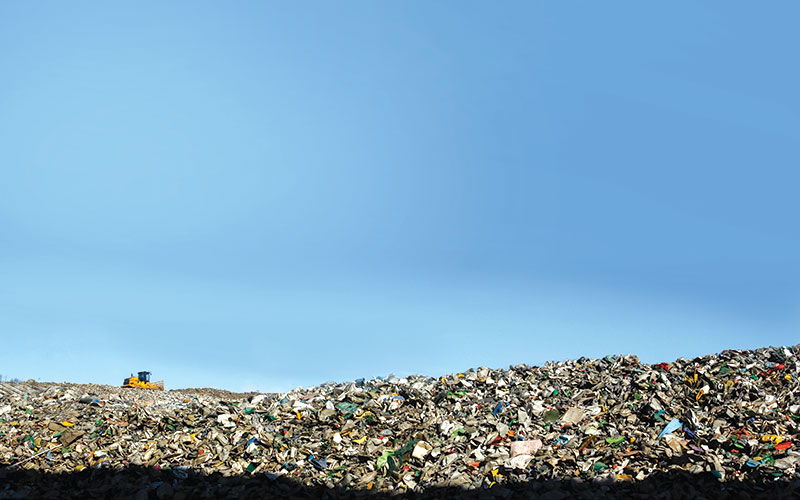 Energy generation and waste management are two of the most critical issues faced by modern societies. Energy, in the form of electricity or heat, is a crucial input, while waste can be seen as an inevitable output. Traditional, linear economic models put waste at the end of the chain, designating it to have no worth. However, the concept of the circular economy argues that waste does have value and recovering energy from waste (EfW) can assist in meeting the growing energy demand while limiting the amount destined for the landfill. In the circular economy, waste can be the fuel and energy the result.
Turning waste into low-carbon fuel
The EfW sector is currently in a period of transition as it moves away from traditional incinerators to advanced conversion techniques such as gasification and pyrolysis. These methods burn the waste with little or no oxygen and produce pollutants in a reduced form. In addition, EfW facilities are increasingly combining heat and power, meaning they are highly efficient and competitive with traditional plants. Biochemical techniques, such as anaerobic digestion (AD), offer an opportunity to produce biogas and fertilisers while cutting carbon and studies show diverting one tonne of waste from landfill towards AD can prevent up to two tonnes of CO2 emissions.
Moving up the waste hierarchy
Working to accelerate the transition to the circular economy, the Ellen MacArthur Foundation states that 'a circular economy aims to keep products, components, and materials at their highest utility and value at all times.' The Foundation advocates zero waste and, unsurprisingly, the concept has been paired with EfW at various levels of governance.
Driving energy recovery in Europe
In January 2017, the European Economic and Social Committee laid out its vision for turning waste into energy as part of its wider overview of the state of play in the 2015 Circular Economy Action Plan. The guidance emphasised that generating energy from waste that cannot be recycled or reused can contribute to a circular economy and energy diversification, although it must not be seen as a replacement to recycling.
Doubling down on its waste management efforts, in February 2018, members of the European Parliament officially backed a legislative proposal that member states send less than 10% of the total municipal waste generated to the landfill by 2035 while also targeting 55% of waste for reuse and recycling. This implies that up to 35% of all EU municipal waste could be used for energy recovery.
The UK's rapidly evolving sector
In the Clean Growth Strategy, the UK government targets zero avoidable waste by 2050. It also aims to maximise the value extracted from resources while minimising the negative environmental and carbon impacts associated with their extraction, use and disposal. Further, the report looks to maximise energy recovery by ensuring that different waste materials are treated in the best viable way.
According to government figures, the UK currently deposits an estimated 48.2m tonnes of waste to landfills per year (DEFRA:UK Statistics on Waste, 2018) and this figure is increasing year-on-year. While a proportion of that will be recyclable materials, a significant amount will have no other use and therefore must either be burned (or biochemically altered) and transformed to energy, or buried in landfills which can leak landfill gas – a mixture of methane and CO2. The UK already has a EfW sector with a generating capacity totalling around 1,205MW or 5.57TWh of electricity per year, and this looks set to double with the next decade.
The EfW sector could become increasingly important for the UK in light of changing global policies. Brexit will play a role as the UK currently exports over 3m tonnes of refuse-derived fuel to Europe. This costs around £280m per year and this figure is expected to increase after May 2019. China has recently imposed stringent import restrictions on low-grade waste, and UK companies alone have shipped more than 2.7m tonnes of plastic waste to China since 2012, two-thirds of the UK's total waste exports. These changes offer opportunities for the UK to take back control of its waste management while producing domestic, low-carbon energy.
Capital concern
The London Assembly's Environmental Committee has recently published the twin reports Waste: The Circular Economy (2017) and Waste: Energy from Waste (2018). The latter report states that over half of London's waste, around 2m tonnes, was sent to EfW facilities in 2017, indicating the importance of EfW in both the waste management sector and the circular economy paradigm.
There is a potential decentralised, smart grid element for energy from waste. To avoid reductions in value, resources are best utilised locally and EfW facilities offer an opportunity to locally manage waste while also using the energy and heat produced in local grids and networks. Industrial parks and commercial centres of high waste production and energy use can particularly benefit from this, and the possibility of merchant EfW facilities is even more likely based on estimates suggesting only 2% of commercial and industrial waste is currently used for energy recovery.
---
Energy from waste supply chain opportunities in the UK
As the UK market is set to grow substantially in the short to medium term, it offers substantial supply chain opportunities. Thermochemical facilities, which make up 90% of announced developments, are similar to traditional thermal power plants (i.e. coal) and therefore offer a diversification route for companies involved in conventional power. The main stages of facility development, from feasibility to operations and maintenance provide a range of openings for supply chain companies, and the key areas are listed below.
| | | | | |
| --- | --- | --- | --- | --- |
| Feasibility | Front-end engineering design | Engineering, procurement and construction | Operations and maintenance | Financing |
| Regulation compliance, approvals and permits  | Conceptual design and layout | Boiler manufacture-turbines, membrane walls, tube bundles, cladding | Plant inspections- preventative and corrective maintenance | Long-term service contracts-public-private partnerships, corporate power purchase agreements |
| Economic and market analyses- risk and opportunities | Waste collection and transportation | Waste transfer-cranes, chutes, grates, conveyors | Residue disposal and emissions monitoring | Debt financing |
| Site evaluation-land use and zoning issues | Infrastructure works and access roads | Refuse-derived fuel/solid recovered fuel production- shredder, baler | Health, Safety and Environment regulatory compliance | Equipment leasing |
| Public involvement campaign |   | Civil engineering- steel and concrete construction | Quality management |   |
| Impact assessment and due diligence |   | Pipework installation | Boiler cleaning |   |
| Technology assessment |   | Transmission-substation, transformers, switchgear, overhead cables | Laboratory services- chemical sampling and analysis |   |
|   |   | Electrical and auxiliary systems |   |   |
|   |   | Decommissioning and dismantling |   |   |
A perfect match?
It is important to note that in the circular economy, energy recovery should be one of the final stages, with reduce, reuse and recycle essential precursors. While in practice some waste streams are better suited for EfW than earlier stages, it is vital that the sector, and the option of energy recovery, does not diminish or contradict efforts to overcoming these barriers to producing less waste. Nonetheless, the situations discussed in this article, combined with increasing electricity demands and closures of Europe's coal plants, provide opportunities for the EfW sector to play a key role in the transition to a low-waste, low-carbon, circular economy. 
---
By Richard Vale, Power, Nuclear and Renewables Energy Analyst at the EIC
For further information: The EIC Energy from Waste Insight Report is now available. EIC Reports are available free of charge to EIC members and for purchase (£195+VAT) by non-members. Please contact info@the-eic.com for more information or to buy your copy.