Floating offshore wind: the next big thing in Asia Pacific?
Floating offshore wind will open new opportunities in South Korea, China, Taiwan and Japan – but institutional and policy barriers must first be addressed, says Kevin Liu at Scottish Development International
There has been a remarkable transformation of energy strategy across Asia Pacific during the past year. Ambitious net-zero targets were announced by China, South Korea and Japan ahead of COP26, and even though the climate negotiators in Glasgow failed to agree on stronger commitments to phase out coal, which to date still accounts for the majority of power generation capacity in the region, the major economies of Asia Pacific now share an unrelenting momentum to build out renewable energy in the following decades. Offshore wind, including floating technology, stands to benefit as a proven and scalable solution.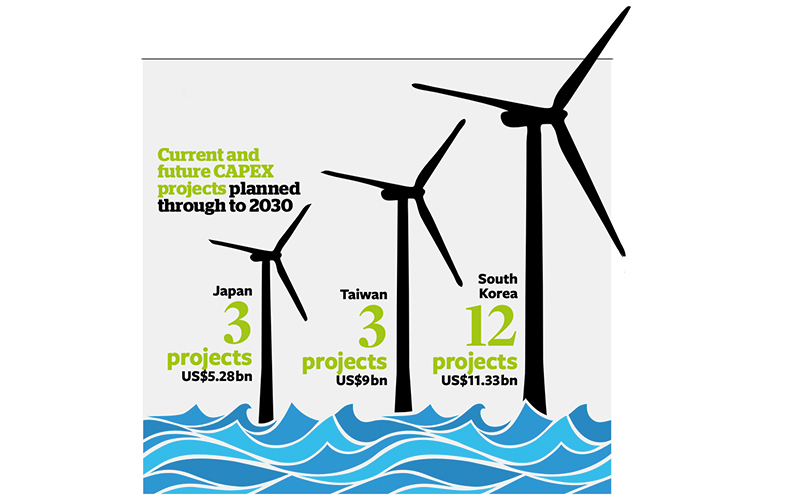 Current and  future CAPEX projects planned through to 2030
South Korea
While China, Taiwan and Japan are currently the region's largest fixed-bottom offshore wind markets, South Korea has emerged as its centre of floating offshore wind development. Under its Green New Deal, the South Korean government is targeting 12GW in offshore wind capacity before 2030, primarily by leapfrogging to floating offshore wind. Reacting to favourable government policy and excellent wind resources, several international and Korean developers have announced joint ventures to develop large-scale floating projects, including:
Equinor and KNOC – Donghae project with 200MW capacity
TotalEnergies and Macquarie – five projects with 2GW total capacity
Shell and CoensHexicon – MunmuBaram project with 1.3GW capacity
Ocean Winds and Aker Offshore Wind – two projects with 1.3GW capacity.
South Korea's bold position on floating offshore wind is a source of encouragement for UK companies with relevant technologies. However, the country's strong steel, shipbuilding, electrical and cable industries present tough domestic competition to international players. UK companies are more likely to find success in project planning and management, foundation design and engineering, and installation and commissioning services, as there remains a distinct lack of domestic experience to deliver projects on time and on budget.
China
In 2021, China overtook the UK to become the world's largest offshore wind market by installed capacity, accounting for 26GW of 54GW worldwide. This has been entirely fixed-bottom, though China's first floating offshore wind demonstrator was installed in Yangjiang, Guangdong province, in the second half of 2021, with a single 5.5MW typhoon-resistant turbine. Meanwhile, MingYang Smart Energy, one of China's top OEMs, has introduced and secured overseas orders for its 11MW floating turbine and is spearheading grid-connected floating offshore wind development in Guangdong waters, which are much deeper than those along China's eastern coast. 
Like South Korea, the China market often gives the impression of being too big and too tough to crack. This sentiment is not without its merits, especially in the current context of highly restrictive entry into China for foreign nationals, which presents obvious business development challenges in a culture that is systemically reliant on face-to-face relationship building.
South Korea's bold position on floating offshore wind is a source of encouragement for UK companies with relevant technologies
However, by their own admission, Chinese developers are acutely aware of their lack of offshore experience, particularly in the operations and maintenance phase, where there is a shortage of skilled crew and digital solutions for integrity management, inspection and repairs. Once the build-out of floating offshore wind begins in earnest, opportunities for UK expertise in subsea structures, such as dynamic cabling, mooring and anchoring solutions, are also likely to emerge.
Taiwan and Japan
Both Japan and Taiwan are highly suited to floating offshore wind, but neither has presented a clear roadmap for its development. Taiwan is arguably the region's most international offshore wind market, and one that UK companies have secured most successes in, with plans to add a further 15GW from 2026 to 2035. The Taiwanese government has signalled its intention to develop a floating offshore wind demonstrator, led by National Taiwan University and the state-owned shipbuilder CSBC Corporation.
However, Taiwan's floating policy remains ambiguous and is based on offering the same auction ceiling price as fixed-bottom projects for the upcoming Round 3, which has understandably discouraged developers from bidding for floating projects. In that respect, floating offshore wind is unlikely to take off in Taiwan until the pricing mechanism changes or new ways of financing more expensive floating projects become available, such as through corporate power purchase agreements.
In June 2021, Japan launched its first floating offshore wind auction for 16.8MW, which was won by a consortium of six companies, led by Toda Corporation. However, Japan appears more likely to rely on fixed-bottom technology for its offshore wind target of 10GW by 2030, and would only start to develop large-scale floating projects thereafter to reach its phase two target of 30GW–45GW by 2040.
By Kevin Liu, Head of Energy and Low Carbon Transition – Asia Pacific, Scottish Development International
Image credit | Getty