Hotspot for renewable energy developments
Across the region, scaling up the contribution of renewable energy to the future energy mix is a major policy priority. With Argentina, Brazil and Chile leading the way, Energy Focus provides snapshots of tendering activity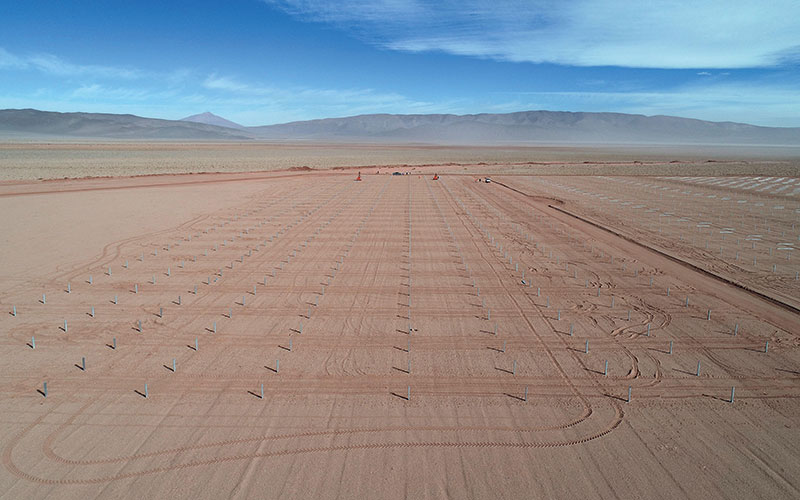 Joanna Crellin
Her Majesty's Trade Commissioner for Latin America and the Caribbean, UK DIT
It is a pivotal moment for the energy sector in the region as countries are responding to deal with unprecedented increases in energy demand while reducing carbon emissions. Across the continent, governments are opening up their energy sectors to international competition and encouraging a transition 
to renewable energy – creating massive commercial opportunities.
The renewable energy sector is one of our main priorities at the DIT as we see the potential for UK business to enter the market. We are present in 19 countries throughout Latin America and the Caribbean and we have experts who understand the local markets, and can support businesses find the right opportunities.
---
Argentina
Argentina is on track to become Latin America's most attractive renewable energy market, as the country sets its sights on 20% renewables by 2025.
To achieve these targets, a series of renewable energy auctions are expected to take place over the next few years. The government is expected to auction 10GW of renewable energy capacity by 2025. Its first renewable auction in 2016–2017 resulted in more than 2.4GW of wind power being contracted.
The country has plans to contract 1GW of renewable energy in a new tender round at the end of this year. Round 4 of the Latin American country's renewable energy programme RenovAr plans to contract 750MW of wind and 250MW of solar PV projects, as well as new transmission lines and substations to allow for a much-needed expansion of Argentina's 45,000km grid.
Argentina is currently holding a small-scale renewable energy tender – known as MiniRen, or Round 3 – which is contracting 350MW of small wind and solar projects and 50MW of other technologies with 10MW maximum capacity. MiniRen is expected to be concluded in July 2019. 

Brazil
During 2019–2030, installed renewable capacity (excluding small hydro) in Brazil is slated to increase from 34.2GW to 60.8GW at a compound annual growth rate of 5.4%. Solar and onshore wind are expected to grow at rates of 14% and 6%, respectively, making renewables the second largest contributor to the country's energy mix by 2030.
The country's first energy auction since President Jair Bolsonaro took office in January 2019 was the first round of biannual tenders to be held until 2021. One A-4 auction, in which successful developers must build their projects within four years, and one A-6 tender – in which they must build within six years – will be held in each of the next three years.
In June, 15 energy projects with a combined capacity of 401.6MW were awarded contracts in the tender. Iberdrola's Brazilian subsidiary Força Eolica won two contracts for two 37.1MW wind farms in Piauí, while French developer Voltalia added 21MW for a wind farm in Rio Grande do Norte – both in the north-east of the country.
Six solar PV projects (combined capacity 203.7MW) were awarded 20-year contracts. Some 163MW of the total was reaped by five projects of Enerlife Energias Renováveis in the northeastern state of Ceará. Meanwhile, CEI Renováveis will be developing the 40MW Jaiba SE1 project in the inland state of Minas Gerais.
Other A-4 contracts secured 81.3MW across five small hydropower schemes and a 21.4MW biomass plant slated for construction in Mato Grosso do Sul. Overall, all renewable projects will require financing of almost US$500m.
The A-6 new energy auction is scheduled for 17 October 2019, and has registered more than 1,800 renewable projects with total bids of 101GW. 
Chile
The host country of the next UN climate talks (COP25) in December 2019 has announced its ambition to reach carbon neutrality by 2050, phasing out all coal-fired plants by 2040. In order to meet its clean energy goals and keep up with rising demand, Chile needs to add between 6.5GW and 11GW of renewable capacity in the next few years. And since these energy sources are variable, the system needs to greatly increase its flexibility to be able to switch between different energy sources.
Chile has been a pioneer in technology-neutral auctions, enabling renewables to compete with fossil-fuel plants in calls for tenders, thereby allowing wind and solar to actually lead the recent power capacity expansion thanks to their competitive cost.
With a total of around 5GW of renewables, including 2.3GW of solar and 1.5GW of wind, about 19% of current power supply comes from renewables – close to Chile's 2025 target of 20%.
For the first time since 2017, Chile's Ministry of National Property has launched a public tender, offering almost 90km2 of state land for the development of renewable energy, targeting wind and solar projects. A total of 179 land plots will be offered, primarily in the northern and southernmost regions of Chile.
According to Chile's Renewable Energy Association (ACERA), more measures to boost renewables are expected to be announced, and Chile is already discussing the possibility of reaching 70% renewable power supply by 2050, and even 100% by 2070. 
Major Projects to Watch 
Argentina
Gastre Wind Power Project
Value: US$3.5bn
Startup: 2020
Stage: EPC
Status: Contract Awarded
Operator: Generadora Eólica Argentina del Sur S.A. (GEASSA)
Brazil
Lagoa dos Ventos Wind Farm Complex
Value: US$780.00m
Startup: 2021
Stage: Multi-contract
Status: Contract awarded
Operator: Enel Green Power
Chile
Bundang-Gu Calama CSP Project
Value: US$2.5bn
Startup: 2023
Stage: Conceptual design
Status: Planning
Operator: Andes Green Energy
---
Key opportunities
Wind     
Turbine blades     
Towers     
Foundations     
Substations     
Installation vessels and support     
Cables     
Engineering     
Operations and maintenance     
Security     
Consulting services
Solar     
Solar equipment     
EPCI     
Off-grid services     
Security     
Consulting services
Points to consider  
British expertise is generally highly regarded  
Identify reliable local partners  
Invest in face-to-face meetings 
---