Massive connector offers UK energy crisis lifeline
In the middle of an energy crisis, how do we stay on track to achieve critical decarbonisation targets in an affordable and secure way for consumers? And what if, in the process, we could create a new manufacturing industry, global supply chain and green jobs bonanza? Xlinks' Morocco–UK Power Project is part of the solution, says CEO Simon Morrish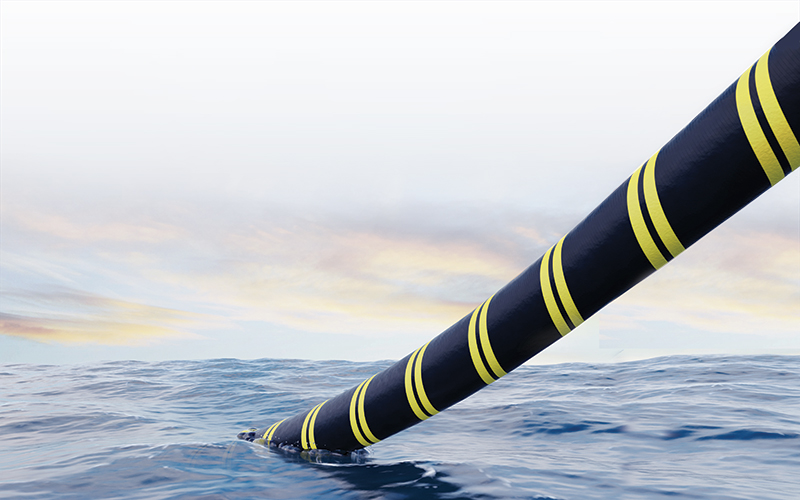 The Morocco-UK Power Project is an opportunity for Britain to meet 8% of its annual electricity demand by the end of this decade by harnessing the abundant solar and wind resource of North Africa and delivering it directly to the British grid.
Xlinks' investment will not only create a huge economic dividend on both sides, but also catalyse a whole new domestic cable manufacturing industry to service the expanding global offshore wind and interconnection markets, bringing high-value jobs, skills and supply chain growth across regions.
Zero-carbon collaboration
The privately-financed clean energy project draws on strong trading links and Morocco's world-leading experience in large and innovative energy infrastructure. Blessed with sunshine and trade winds – with more than twice the UK's solar resource, and a higher wind resource – Morocco is targeting 52% of power generation from renewables by 2030, and also wants to become an international hub for price-competitive and carbon-free energy, making it the ideal partner for Xlinks.
Capturing Saharan sun and wind
Located in the Guelmim-Oued Noun region in south Morocco, 10.5GW of solar and wind generation will sit alongside 20GWh/5GW of battery storage. Solar panels, tracking east to west, will generate three times the power that they would generate in the UK, and five times more from January to March. And with trade winds rising in the evening, one hour ahead of the UK, supply will match demand.
The world's longest subsea electricity cable system will stretch 3,800km along the coastlines of Morocco, Spain, Portugal and France to connect the project to the British grid in Devon, under a 3.6GW agreement with National Grid. That is power for more than 7m British homes for an average of 20+ hours a day.
Proven technologies and expertise
Building a project on this scale is not without its challenges. Our expert team is minimising risk by using tried and tested technologies that are already operating in a safely and cost-effective way around the world. As in the 720km UK–Norway North Sea Link, high-voltage direct current (HVDC) technology will allow the efficient transfer of electricity over long distances. Twin 1.8GW cable systems will follow a shallow water route optimised for minimum length at a maximum depth and for the geology and environment. Cables will be buried under the seabed at a water depth of 100–250m, sometimes reaching 700m, to avoid damage by fishing vessels.
New jobs and an export-led manufacturing industry
In Morocco, an estimated 10,000 jobs will be created – 2,000 permanently – through local components manufacturing and civil engineering. In the UK, the project will launch a high-growth HVDC cable industry and supply chain, initially supporting the creation of 1,350 high-value UK manufacturing jobs by 2024. We are already building the capacity, with consent granted for a factory in Hunterston and another factory planned. We are also committed to building skills: our partner XLCC is working with North Ayrshire colleges on new courses for local students to train as HVDC jointers.
COP27 has renewed the focus on carbon reduction and a just energy transition. Xlinks' UK–Morocco Power Project is already on track to deliver cheap, reliable and decarbonised power to the UK, but is also an exciting cross-border collaboration that can catalyse a cable industry and a supply chain that will be a critical enabler for global net zero.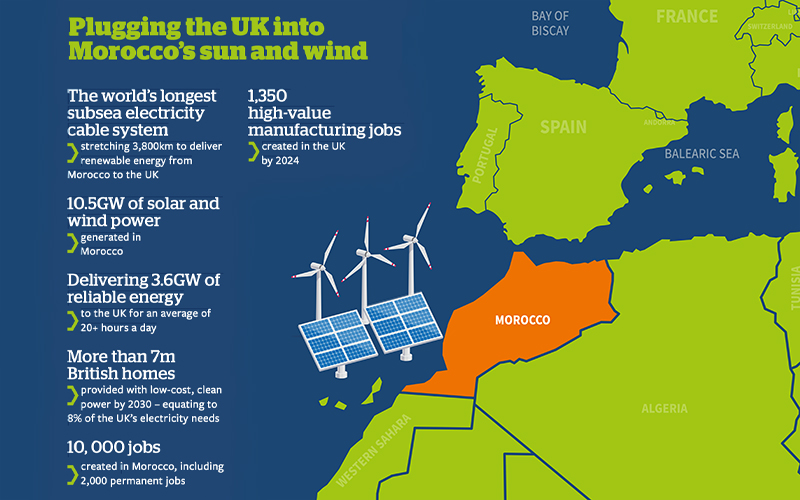 By Simon Morrish, CEO, Xlinks
Image credit | Shutterstock