Advancing biofuel technologies
ExxonMobil's Vijay Swarup looks at how the company is tapping algae and agricultural waste to fuel a sustainable future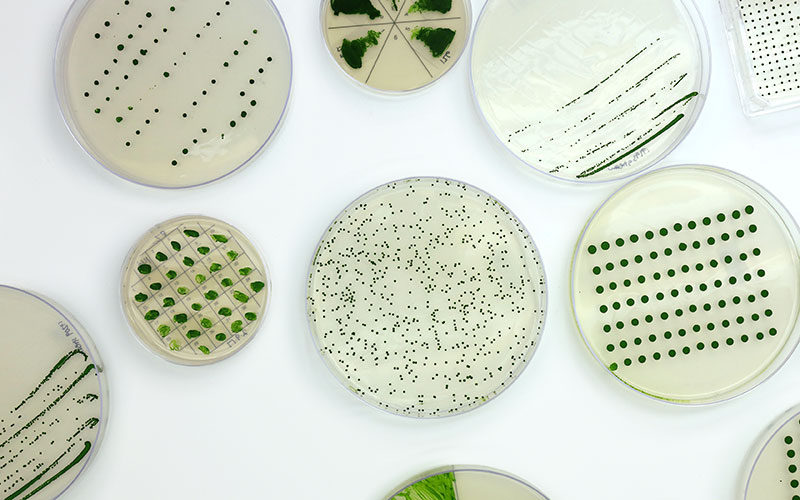 It often surprises people to learn that an oil company like ExxonMobil is investigating the promise of alternatives, such as biofuels – but we are. While many companies have ceased or scaled back their work in this area, we have maintained a steady focus on the fundamental science since we first announced our partnership with Synthetic Genomics, Inc. in 2009 to investigate the ability to produce biofuels from algae.
Second generation biofuels
A biofuel is any fuel that is derived from living organisms. Given their renewable nature, they offer the potential to help expand energy supplies while reducing greenhouse gas emissions.
Many people are familiar with the biofuel ethanol, which is predominantly produced from corn or sugar cane and blended with gasoline. Discussions continue, however, about the environmental footprint of such first generation biofuels.
ExxonMobil is therefore pursuing research into second generation biofuels as part of a wide-ranging portfolio to determine how they may best fit into the energy future. These second generation biofuels use feedstocks that do not compete with food and have the potential for lower land-use impacts. Our continuing focus on the fundamental science is critical in potentially advancing such technologies to scale and helping ensure they are affordable to consumers.
A broad research portfolio
Oil from algae can potentially be processed in conventional refineries, producing fuels no different from convenient, energy-dense diesel
Our extensive work includes research into algae and other programmes focused on converting alternative feedstocks such as cellulosic biomass. We are working with Synthetic Genomics and leading universities and research institutions, including the Colorado School of Mines, Michigan State and the University of Wisconsin, to advance biofuel technology.
Oil from algae, for example, can potentially be processed in conventional refineries, producing fuels that are no different from convenient, energy-dense diesel. The oil produced by algae could also serve as a potential feedstock for chemical manufacturing. The challenge is to find and develop algae that can produce bio-oils at scale on a cost-efficient basis.
In March 2018, ExxonMobil and Synthetic Genomics announced an exciting new step in developing scalable biofuels from algae that could lead to the technical ability to produce 10,000 barrels of algae biofuel per day by 2025. The new phase of research includes an outdoor field study that will grow naturally occurring algae in several contained ponds in California.
The effort involves teams of scientists and engineers, from both Synthetic Genomics and ExxonMobil, working to understand algae growth characteristics. Both of our organisations have worked closely for several years to develop algae strains for improved photosynthetic efficiency and potential future oil production.
While this research target is still years away, and it will take well over 10,000 barrels per day to fuel the world's transportation needs, ongoing work in the field and lab is bringing researchers closer to scaling up algae biofuels production in a meaningful way.
ExxonMobil is also partnering with the Renewable Energy Group, Inc. (REG) to study the production of biodiesel through fermentation of renewable cellulosic sugars from sources such as agricultural waste. REG has developed a patented technology that uses microbes to convert sugars to biodiesel in a one-step fermentation process.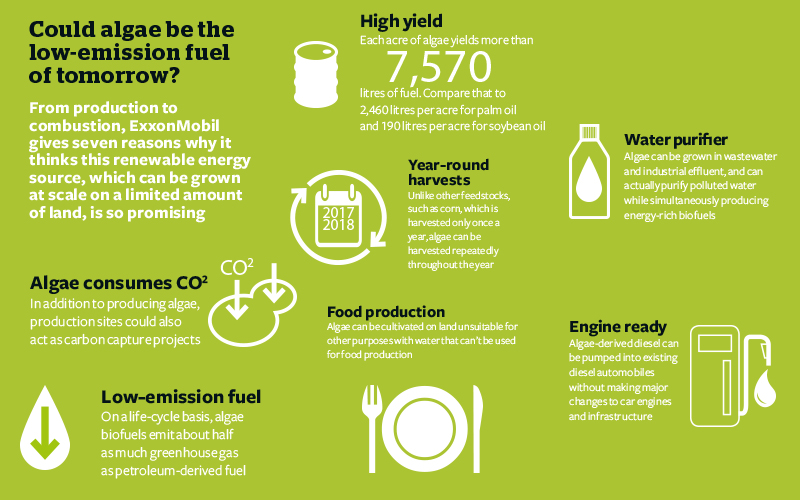 What's next?
Since 2000, ExxonMobil has spent more than US$9bn to develop and deploy ower-emission energy solutions across its operations
ExxonMobil's work with advanced biofuels represents only one component of our broad research programme. Since 2000, ExxonMobil has spent more than US$9bn to develop and deploy lower-emission energy solutions across its operations, including carbon capture, utilisation and storage; breakthrough energy-efficiency processes; natural gas technologies; advanced energy-saving materials and environmental life-cycle assessments. We invest about US$1bn a year in research and development across all of our various business lines.
Researching and developing advanced biofuels is a long term endeavour. We have a long history of taking science to scale. We are focused on determining the technical feasibility and potential environmental benefits during this phase of our work. If we see positive results, we will proceed to the next step and continue the research toward scalability. We have made great progress, but we know we still need scientific breakthroughs for biofuels to be scaled up economically and produced in a way that yields meaningful environmental benefits.
By Vijay Swarup,Vice President of Research and Development, ExxonMobil