Driving force of the future
Energy Focus looks at how trailblazer Tesla is taking on energy storage.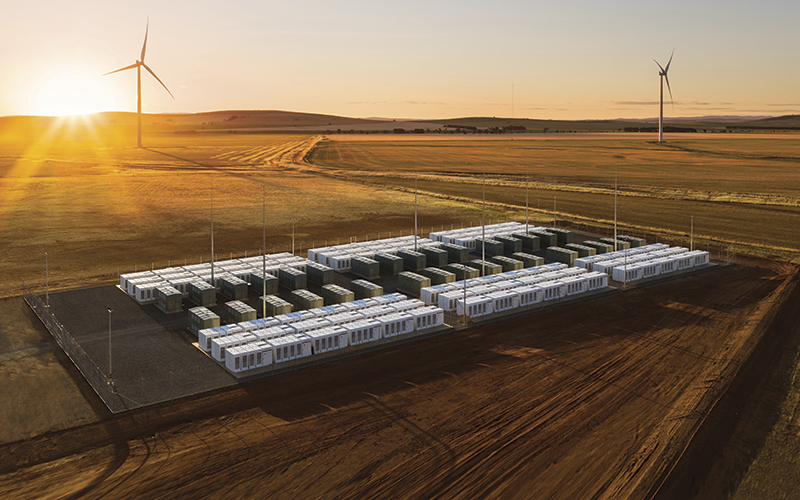 Tesla's mission is to accelerate the world's transition to sustainable energy. Founded in 2003 by a group of engineers who wanted to prove that people didn't need to compromise to drive electric, today the company builds not only all-electric vehicles but also scalable clean energy generation and storage products.
Powering a better future
Tesla says there are three key components that can help address climate change and have a positive impact on the world: sustainable energy generation, electric cars and batteries. While renewable energy and electric cars are becoming competitive technologies, to become truly transformative these technologies need a new generation of batteries for injecting reliability and resiliency into the energy network overall. Enter Tesla.
Energy storage is a key factor in addressing future energy demands, says Tesla. To create an entire sustainable energy ecosystem, the company has designed a unique set of energy solutions enabling homeowners, businesses and utilities to manage renewable energy generation, storage and consumption. The technology is similar to that of the batteries deployed in high-performance Tesla electric cars. Along with storing renewable energy from, for example the wind or sun, such batteries can draw energy from the electrical grid during off-peak hours when rates are lower and store it for later use.
Tesla's Powerpack is a high-performance, infinitely scalable battery storage system for utility and commercial applications. It can help organisations gain greater control, efficiency and reliability across the electric grid by enabling them to avoid peak demand charges, buy electricity when it's cheapest, participate in grid services, create a microgrid or back up for critical business operations in the event of a power outage as well as maximise consumption of on-site renewable power.
Scalable from 200kWh to 100+MWh, the system delivers broad application compatibility and streamlined installation for businesses and utilities by integrating batteries, power electronics, thermal management and controls into a turnkey solution.
Addressing energy demands around the world
In the UK, Tesla's battery/energy storage solution is playing a vital role at the UK's largest supercharger station in South Mimms near London. As more electric vehicles hit the road, there will be increased demand for electricity and charging. Integrating a 250kW Powerpack at South Mimms is enabling vehicles to charge from the Powerpack instead of drawing power from the grid during peak periods. During off-peak hours, the Powerpack system charges from and discharges to the grid providing a Firm Frequency Response service to National Grid and earning revenue for balancing grid electricity supply and demand on a second-by-second basis.
In the US, Powerpack has been installed at the StubHub Center in Carson, California – home of major league football team LA Galaxy. The 2MWh system is helping the stadium manage energy costs and reduce its impact on the Southern California power grid. Naturally, the sports venue puts a tremendous strain on the grid during events and the Powerpack system allows the stadium to draw stored energy during times of heavy usage.
On the Hawaiian island of Kaua'i, a 13MW SolarCity photovoltaic array plus 52MWh Powerpack system has been built under contract with Kaua'i Island Utility Cooperative (KIUC). The system stores solar energy created during the day and feeds it to the grid during the evening hours to reduce the amount of diesel power generation needed to meet electricity demand. This will help KIUC meet its goal of using renewable resources to generate half of the island's electricity by the end of 2019.
In South Australia, a 100MW/129MWh Powerpack system charges using renewable energy from the Hornsdale wind farm and delivers electricity during peak hours to help maintain the reliable operation of South Australia's electrical infrastructure (see photo). Completed in December 2017, this system is the largest lithium-ion battery storage project in the world and will provide enough power for more than 30,000 homes.
Working in close collaboration with the South Australian government and Neoen, this grid-scale energy storage project is not only sustainable, but will help solve power shortages, reduce intermittencies and manage summertime peak load to improve the reliability of South Australia's electrical infrastructure. This project is the blueprint for future energy storage deployments around the world.
Energy storage is key
Through these and other global projects, clean energy powerhouse Tesla is helping countries, utilities and businesses to address energy demands as well as firm up their renewable energy supply. And this is just the beginning. Tesla firmly believes that energy storage has a central role to play in creating a new, evolved energy system and will boost the adoption of renewable energy sources, making a significant contribution to decarbonising our energy supply as a whole.