UK can lead the way on green aviation fuels
The UK has the opportunity to build a world-leading  sustainable aviation fuel industry, says Matt Gorman, Chair of Sustainable Aviation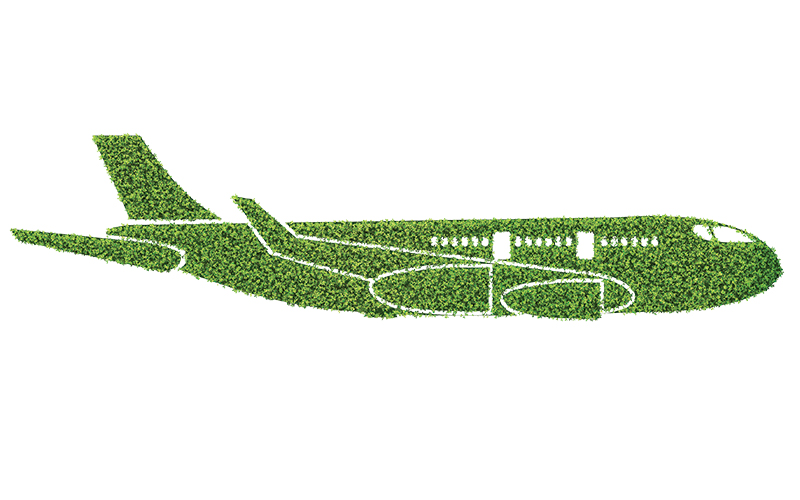 In February 2020, Sustainable Aviation – a UK-based coalition of airlines, aerospace manufacturers, airports and other aviation-related companies – published a Decarbonisation Road-Map setting out a credible pathway to achieving 'jet zero' by 2050. A 2050 goal is vital, but to meet investor, consumer and public expectations, we have to be scaling up solutions and cutting carbon now.
Achieving jet zero
Developing zero-emission flight powered by electric and hydrogen propulsion, as well as modernising our airspace to make flying more efficient, will be important in getting to jet zero. Airbus, has announced that it wants its next generation of short-haul planes flying from the mid-2030s to be zero-carbon emissions – powered by hydrogen. That's hugely exciting. 
However, to hit our climate goals, we will need sustainable aviation fuel (SAF) – and lots of it, right through to 2050 and beyond. SAF is a drop-in fuel produced from sustainable feedstocks, currently including agricultural residues, municipal solid waste, industrial waste gases and waste fats.
The UK has a historic opportunity to create a world-leading SAF industry. They are proven to work and can cut lifecycle emissions by 70% or more compared to fossil jet fuels. They also do not require new engines or airport infrastructure to work, meaning they can be used in the jets purchased by airlines today, each with 20-year service lives. SAF is the only proven net-zero solution for flights of more than 1,500km, which account for three-quarters of global aviation emissions.
Getting SAF off the ground
Geopolitical events have shown how crucial a secure fuel supply is. Without domestic SAF production, we risk not having the SAF needed to meet the UK government's 10% usage target by 2030, and losing out on investment, jobs and export opportunities.
'SAF clusters' in the UK could be home to up to 14 SAF facilities by next decade, in Teesside, Humberside, the North West, South Wales, Southampton, St Fergus and Grangemouth – all former industrial heartlands that would benefit greatly from the estimated £33bn in GVA and 20,200 jobs that would be created.
So, where are we today? The answer is frustratingly close to a major breakthrough, but we're not there yet. We need the final pieces of policy support from the government to signal to global investors that the UK is the place to invest in SAF production.
The two things needed for us to establish a new green industry in the UK are a mandate and a price stability mechanism. A mandate will require fuel producers to make an increasing percentage of SAF in years to come. But unless investors know they will be able to sell their product at an attractive price, they will not invest – which is where the pricing mechanism comes in.
Due to its infancy, there is no set market price for SAF for investors to calculate returns, resulting in investment being held back – as was the case with offshore wind a decade ago. We are seeing other countries overtake us: the US, for example, has introduced a fuel tax credit, and global capital is starting to flow, with up to 45 plants planned by 2030. International investors will not wait for us; they are making investment decisions now, and unless we are serious about a UK SAF industry, they will take their investment elsewhere.
---
Lighthouse Green Fuels Project, Teesside, UK
Value: US$1bn
Start: 2026
Stage: FEED
Status: Planning
Operator: Alfanar
Altalto Project, Immingham, UK
Value: >US$1bn
Start: 2027
Stage: Pre-FEED
Status: Planning
Operator: Velocys, British Airways
Hennepin Sustainable Fuels Plant, Illinois, US
Value: US$500m
Start: 2025
Stage: Feasibility
Status: MoU
Operator: LanzaJet, Marquis Incorporated
Soperton Renewable Fuels Project, Georgia, US
Value: US$300m
Start: 2023
Stage: EPC
Status: Contract awarded
Operator: LanzaJet, Pacific Norwest National Lab
---
Need for action now
Introducing a Contract for Difference mechanism for SAF would ensure a stable price for its production. This mechanism propelled offshore wind to great success and is now being proposed for hydrogen and carbon capture.
With the proper policy support, we could have at least three operational SAF facilities in the UK by mid-decade, en route to the government's ambition of 10% of all UK fuel being SAF by 2030. Net-zero 2050 requires us to take this action now.
Net zero, jobs, investment, fuel security and exporting opportunities can all be realised by creating a UK SAF industry this decade. Let us not delay.
By Matt Gorman, Chair, Sustainable Aviation