Diversification is again the most used growth strategy among EIC members. With oil and companies moving into the resilient renewable energy market, Editor Sairah Fawcitt looks at the shift to offshore wind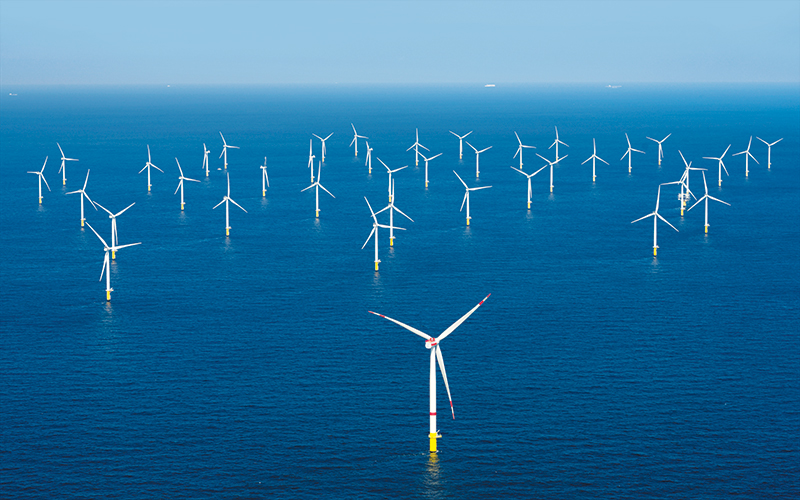 Success in business, not to mention survival, requires adaptability – and nowhere is this more evident than in the 61 inspiring case studies of transformational change featured in the fifth EIC Survive and Thrive (S&T) Insight report.
Following a tumultuous year for the oil and gas industry – COVID-19, the climate change crisis and collapsing oil prices – this year's S&T report reveals that diversification is once again the most popular growth strategy for participating member companies in challenging market conditions.
Of the 45% British and 21% international participants that de-risked their revenue sources to rely less on oil and gas going forward, 25% of these companies diversified into renewables.
Move to offshore wind
For AIS – an established global leader in the engineering, manufacture and application of insulation and passive fire protection systems, buoyancy, and subsea products for the energy industry – it was the stability of the complementary offshore wind market that proved appealing.
"Although there was a slowdown during COVID-19, activity remained, with windfarm projects going ahead and offshore works continuing," says Andi Cunningham, Business Development Manager for Renewables at AIS.
"This makes it an attractive market, and one where we can transfer our existing expertise. The market has massive potential: it is relatively new, and as countries and companies understand the importance of moving away from fossil fuels, the potential growth is huge."
Indeed, AIS is anticipating that 4% of 2021 revenue will be derived from renewables – up from 0% last year.
Balmoral is another example. Established in 1980, the company's core business was tied to the subsea oil and gas sector. Today, however, the company is enjoying considerable success in offshore renewable energy. Having been awarded three new contracts within the offshore wind sector, its order intake from diversified sectors is expected to increase from £700,000 in 2020 to £7m in 2021. Its success is undoubtedly thanks to its quick and agile responses to the clean energy transition, a sound long-term strategy, and the natural evolution of its existing product range.
"Our established solutions are all heavily used in offshore wind," says Steve Gibb, Public Relations Manager at Balmoral. "However, oil and gas products are traditionally designed to suit deepwater operations, when compared to renewables cables that are deployed in relatively shallow waters, in terms of both strength and subsea movement. We had to re-imagine our product portfolio to harness our oil and gas experience but operate within the parameters of offshore renewables, ensuring the evolved range addressed the new demands at optimum price and performance."
Seize the potential
For companies looking to enter the renewable energy sector, one emerging market that is continuing to progress towards commercialisation is floating offshore wind (FOW), says EIC Energy Analyst Sharanya Kumaramurthy.
"The oil and gas sector (O&G) is uniquely placed to profit from its synergies with FOW, due to its logistical and commercial experience with offshore developments – in particular oilfield support systems, supply-chain relationships, marine due-diligence, contracting, and asset maintenance and operations. Offshore platform electrification with FOW can also further reduce costs and emissions, giving players a stronger foothold in the energy transition," says Kumaramurthy.
Although FOW is still in its infancy, energy developers have shown increasing interest. Examples include Equinor and Saipem, with Total also joining France's EolMed project, the UK Erebus project, and entering the South Korean market with a 2.3GW portfolio acquisition.
"Entering at a relatively early stage allows companies to become active players in the future FOW supply chain," Kumaramurthy goes on.
Towards a net-zero future
For oil and gas supply chain businesses that have been impacted by the energy transition journey, "the renewable energy sector offers the opportunity to transfer high-level skills and experience to develop and grow the renewable energy workforce we will need to meet our net-zero ambition," says Emma Harrick, Energy Transition and Supply Chain Manager at Scottish Renewables.
"Our industry can take advantage of the expertise which has evolved from years of oil and gas operations in the North Sea, specifically around complex technical project management techniques, a familiarity with harsh environments, decades of precision engineering and robust commercial know-how," she adds.
"These skills will also be a great export opportunity and can improve our economy as more countries across the globe work to decarbonise their energy systems."
---
Global opportunities in floating offshore wind
The UK and Europe are currently leading in operational capacity, with the 30MW Hywind project in Scotland and Portugal's 25MW Windfloat Atlantic project successfully deployed. New proposals are rising in France, Norway, Spain, Greece, Italy and Sweden, and analysis by WindEurope estimates that up to 7GW could be installed by 2030.
There is also movement in the US, Japanese and Korean markets, with predictions currently indicating that by 2050 up to 50% of floating capacity will be produced in the Asia-Pacific region alone. DNV estimates that, in that time, global capacities will increase from 100MW to 250GW, and costs will reduce by 70%.
There are significant barriers to commercialisation, including supply chain development, shipyard availability and quayside space, financing and regulation. Policymakers need to help mobilise the supply chain and technology companies through subsidies and other supportive legislative mechanisms. Nevertheless, with interest and growth seen in the last year alone, FOW is forecasted to become a leading future energy production source.
---
What advice can you offer companies thinking about moving into renewables?
Emma Harrick, Energy Transition and Supply Chain Manager, Scottish Renewables: "The ScotWind Leasing process will mean a significant expansion of offshore wind capacity, while the repowering of our existing onshore wind fleet, alongside the development of new projects, opens up the playing field for supply chain businesses to compete. Renewable heat, green hydrogen, as well as developing technologies like wave energy and those on the cusp of commercialisation, like tidal power, also offer extensive diversification possibilities for the supply chain."
Andi Cunningham, Business Development Manager, Renewables, AIS: "It is important to spend time to understand the market. I think it is important to realise that it is not the same as oil and gas. From a technological perspective, the shallow water, highly dynamic environment seen in offshore wind is both demanding and unique. Legacy oil and gas technologies are not always sufficient to meet the challenge."
Steve Gibb, Public Relations Manager, Balmoral: "The industry is developing very quickly, and if you sit on the sidelines, you will be overtaken. Look at your current offerings and consider if and how they might be adapted to suit this and other sectors. When you are confident you have a product or solution that is fit for purpose, let everyone know about it. Join industry organisations and associations to help you reach potential clients and sign up to government international trade missions where appropriate."
By Sairah Fawcitt, Editor, Energy Focus
Image Credit | iStock